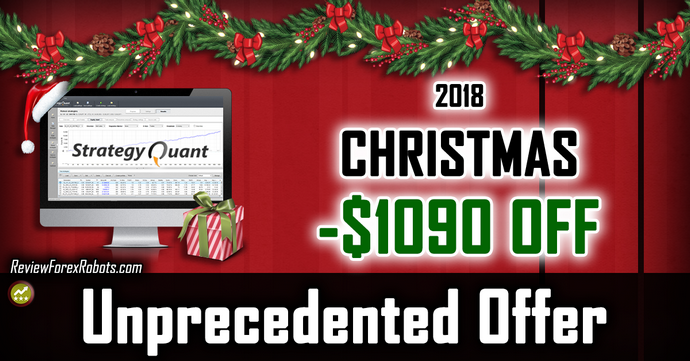 Socks, ties and books are memorarily linked to the Christmas time. It's coming, why not to link other useful things that can change the afterward entire life?
StrategyQuant X has arranged a unique celebration this year for that. They are offering their Intensive Algorithm Course completely FREE of charge, which regularly costs $990.
In this course, there are:
45 lessons explaining how to build profitable automated trading strategies.
Everything is discussed in details step by step.
Exploring how to select only the most profitable strategies based on self-testing.
Exploring how to build a portfolio of the highest quality strategies.
Discussion forum membership where any question can be asked directly to the StrategyQuant X Experts.
Ready to use Time-proven strategies portfolio.
Additional $200 bonus on the StrategyQuant X license, which helps easily build strategies without the need for minimal programming knowledge.
PS: $990 Worth Free Course + $ 200 discount for StrategyQuant will be valid only till next Friday, the 22nd of December 2017!
Published on
Thu Dec 14th, 2017
Information, charts or examples contained in this blog post are for illustration and educational purposes only. It should not be considered as an advice or endorsement to purchase or sell any security or financial instrument. We do not and cannot give any kind of financial advice. No employee or persons associated with us are registered or authorized to give financial advice. We do not trade on anyone's behalf, and we do not recommend any broker. On certain occasions, we have a material link to the product or service mentioned in the article. This may be in the form of compensation or remuneration.