Published on Fri Mar 21st, 2014
As most of you know, FapTurbo 2.0 authors never stopped the quest to improve and advance their fantastic EA or even decelerate a bit.
Bitcoin prices are facing important regression these days coinciding with MtGox Co.â₉€Â¹ request for bankruptcyâ₉€Â¹ and shutdown last month in addition to the EA preferred brokers switch to the new BTCUSD feeds, all these factors have necessitated the re-evaluation of this BTC robot by its developers to ensure it's still leading the market as usual.
And today, Fapturbo 2.0 authors have declared the release of the latest BTC FAPT2.1 Premium, confirming that it greatly outperform its predecessor in many aspects.
Running this new BTC FAPT2.1 Premium from Jan 13th to Mar 14th with the MTS mode could get over than +$29,000 and with the Scalper mode could get a little more than +$13,600 just on BTCUSD with 0.1 lots! This is a flagrant superiority over the previous first BTC FAPT version, especially with the scalper mode!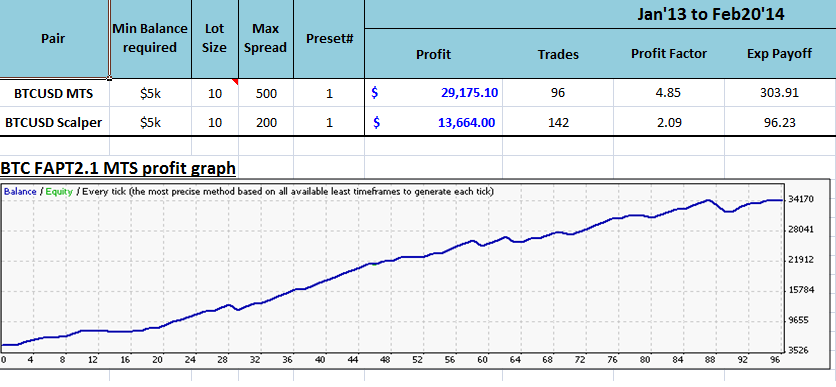 This is a list of improvements in latest FapTurbo 2.1 version:
Increased Profits with lower drawdowns, particularly with the Scalper mode! In BTC FAPT2.1 the scalper has a greatly outstanding performance more than the first version, and with an extremely minimized drawdown in addition to an enhanced Profit/Loss setting that you are able to take full advantage of.
Break Even feature: Through the BreakevenOffset feature you can protect profitable trades from being converted into a loss, if the market price was going to turn against a favorable direction.
Automatic MaxSpread (-1): On MaxSpread set to -1, the latest BTC FAPT2.1 robot will be able to set the best MaxSpread automatically according to the broker it is running on.
Improved WatchLevels in StealthMode : This is how the robot will keep watching closer on a trade during a StealthMode, particularly around the T/P and S/L levels.
Authentication: Every validation issue since Metatrader4 has been forced to update to Builds #600 and above was addressed.
Cosmetic changes: The robot's chart display now includesâ₉€Â¹ ReverseTrade info and the UseFilterMA section has been rearranged and got a little more prominence over the other filter parameters.
The new version is much safer and much more profitable!
==>
BTC FAPT2.1 Premium Official Website