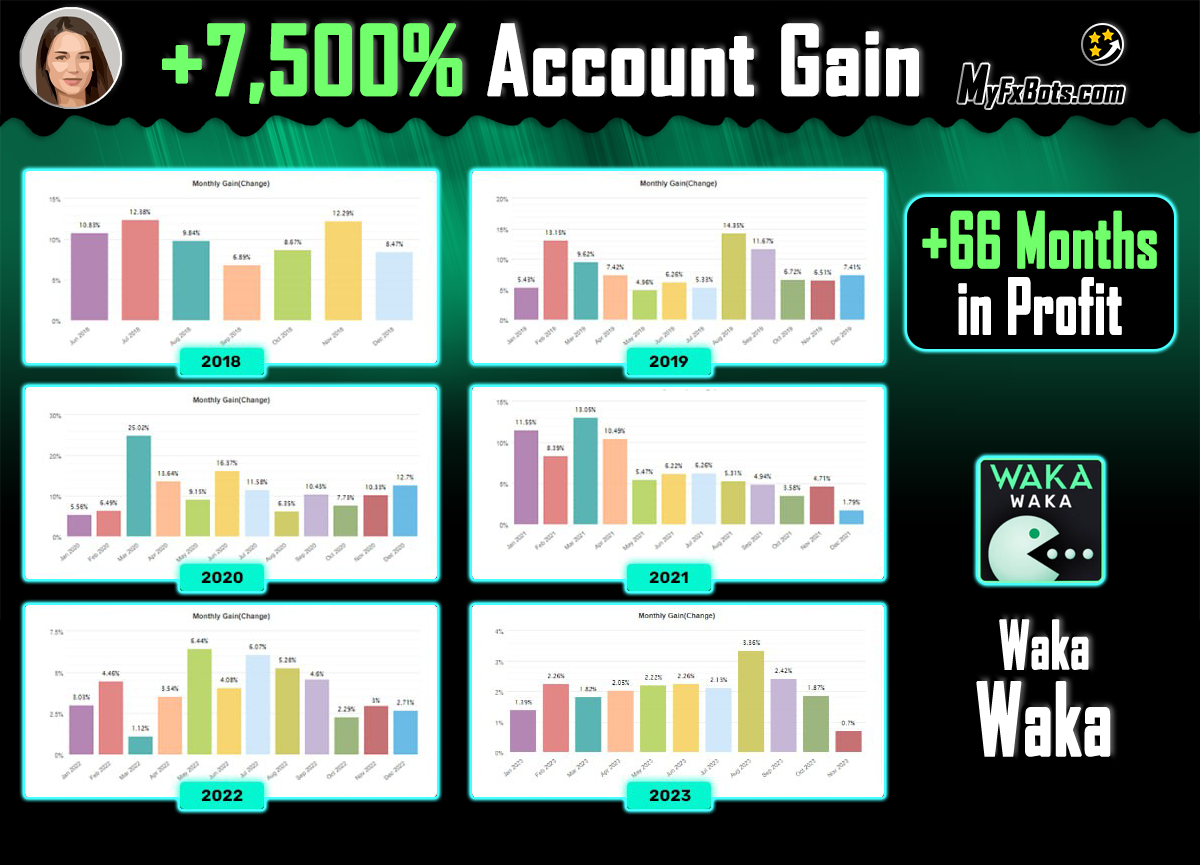 Recently, Valery Trading developers team, have announced that they were thrilled to, once again, share a momentous achievement with all of their clients.
Waka Waka Expert Advisor, has done it again! On November 6th, a few days ago, Valery Trading developers team have achieved 66 consecutive months of profits, setting a new world record within the Expert Advisor niche.
What makes this achievement even more remarkable is the incredible +7,500% gain on their live account, where Waka Waka has been tirelessly working its magic since June 2018.
The team members also ensured that they want to extend their heartfelt gratitude to all their followers and clients who have been with them throughout this incredible journey. Those fans unwavering support and trust has been instrumental in the developers' success. They truly appreciate each and every one of their clients and fans.
As the EA developers continue to break new ground in the trading world, they are committed to delivering excellence and innovation. Their clients' faith in them motivates them greatly to push boundaries and achieve even greater heights.
They are so exited to celebrate this extraordinary milestone and look forward to an even more exciting future.
Be one of the motivatives and gain for yourself!
By
[Last Modified On Thu Nov 16
th
, 2023]
Published on
Thu Nov 16th, 2023
Perceptrader AI is a cutting-edge grid trading system that leverages the power of Artificial Intelligence, utilizing Deep Learning algorithms and Artificial Neural Networks (ANN) to analyze big amounts of market data at a high speed and detect high-potential trading opportunities to exploit.
Information, charts or examples contained in this blog post are for illustration and educational purposes only. It should not be considered as an advice or endorsement to purchase or sell any security or financial instrument. We do not and cannot give any kind of financial advice. No employee or persons associated with us are registered or authorized to give financial advice. We do not trade on anyone's behalf, and we do not recommend any broker. On certain occasions, we have a material link to the product or service mentioned in the article. This may be in the form of compensation or remuneration.