Published on Thu May 7th, 2015
After the great success of the last valuable bonus WallStreet ASIA added to the WallStreet Forex Robot new version 5.0, the EA authors have decided to add another powerful bonus without elevating the robot price, it's WallStreet Recovery PRO v1.0, the customer will be able to download and use all of the three Forex Robots just for the price of the main robot, an Amazing 3 IN ONE Offer.
The new bonus is identical to the parent WallStreet Forex Robot except for its trade management system; how trades are opened and be managed and some other settings.
As we all know that WallStreet Forex Robot has an inventory feature that enables it to close trades in profit in about 90% of the cases but unfortunately in some few cases when the stop loss levels are low, they are often hit, this is fixed in the Recovery Pro bonus version of the robot.
Live Performance Results
Trading Behavior
While WallStreet Recovery PRO v1.0 trading strategy is the same as the parent version, there are differences in the trading behavior between them which are why the Recovery PRO new version was developed, so for this version:
It does not close in loss.
It uses high stop loss level.
It uses additional trade/s for profits restoring.
The robot was designed to close trades only when the StopLoss is touched not just when they are in negative to prevent triggering the robot to close trades by false signals as during large temporary price movements. A higher stop loss level was set too so the new recovery system now has the chance to trigger itself and compensate the losing trade.
The robot get the most benefit from small movements towards the right direction, as after it opens one trade with a bit higher lot size at the most accurate time which is a unique advantage for it over other Forex robots, it has the ability to close all trades in overall profit as shown in the robot in-action screenshot below: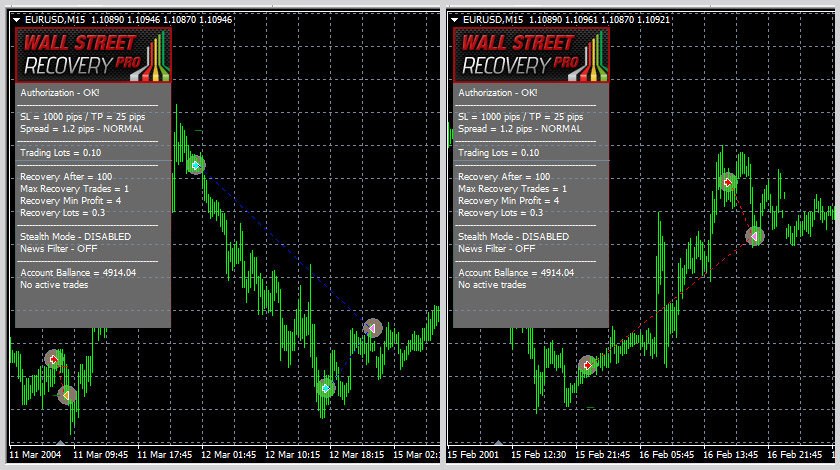 Supported Pairs
While WallStreet Recovery PRO v1.0 can trade all the supported pairs by the regular version, it's recommended to trade only EURUSD and GBPUSD as they are most stable ones. It has predefined settings for EURUSD, GBPUSD, USDJPY, AUDUSD and USDCHF and if you intended to trade other pairs using the robot you have to run your own optimizations.
A regular WallStreet Forex Robot license is required to use both WallStreet Recovery PRO v1.0 and WallStreet ASIA completely for free, no additional fees are needed.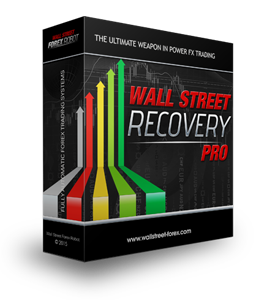 Risk
There is no Forex robot (automated trading system) is void of risks when trading, if a very high trading risk is used even the most powerful and secure strategy can be really harmful for the account balance it's trading on. If compared to the parent WallStreet Forex Robot, the Recovery PRO new version is a bit more riskier as it uses a bit higher lot size and an additional recovery trade, so backtesting the robot before trading on real-money is strongly recommended.