Published on Tue Mar 31st, 2015
FXAutomater - the most experienced Forex trader team (for about 12 years) and automated system developers (for about 8 years); the owners and coders of the well known market leading WallStreet Forex Robot, have recently released a new version 5.0 of that amazing robot with a bundle of new interesting features. It comes with a bonus sub-version WallStreet ASIA robot; the Asian session scalper together for the same price of the parent EA, I think that this would be for a limited time that is not so long!
WallStreet Forex Robot version 5.0 New Features
Protection System Against Uncontrolled Trades Opening

This is rare but if happened could be a disaster, if the broker's server is malfunctioning, it may send false data back to the MT4 terminal in response to opening a trade due to order execution error, so that order which is really opened on the broker's server side won't be recognized as being opened successfully by the MT4 or any robot running in it resulting in subsequent trials to open that trade again and again which finally leads to faulty multiple opening of the same trade.

In this case, the broker should be aware of that and compensate the customer for such error, the new WallStreet Forex Robot v5.0 already has a developed protection system against this problem.

Many other new updated setting optimizations and improvements have been also added, all of them are loaded automatically on the MT4 once the latest version 5.0 is installed.
WallStreet ASIA - The Asian Session Scalper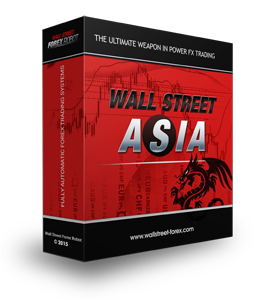 WallStreet ASIA robot has been developed by FXAutomater as a totally free WallStreet Forex Robot add-on in response to the numerous parent EA client requests.
As scalping is limited to the broker's conditions, it's not advised to use the Asian add-on on high spreads brokers during the Asian trading session, and of-course if you are not familiar with that type of trading specifics, it's also not recommended to employ the new Asian add-on.
The WallStreet Asian Scalper comes in two versions; a regular (WallStreet_ASIA_vX.X) version with full parameters and a simple (WallStreet_ASIA_vX.X_Simple) with fewer parameters to facilitate its use for junior automated Forex traders. ONLY ONE version should be used at once, the one most suitable for you.
If you decided to use WallStreet ASIA robot on real money, you should be aware of the following:
All Asian session scalpers performance (including this robot) is a broker's spread and order execution dependent, so it's better to use it on ECN brokers which have tight spreads, fast order execution and good reputation.
A non-success period using this robot that exceeds a month is an indication to cancel the operation and switch to a better trading conditions broker during the Asian trading session.
WallStreet ASIA robot supports the following currency pairs:
GBP/USD with spreads below 4 pips.
USD/JPY with spreads below 3 pips.
GBP/CAD with spreads below 9 pips.
GBP/CHF with spreads below 9 pips.
EUR/GBP with spreads below 5 pips.
EUR/CHF with spreads below 4 pips.
USD/CAD with spreads below 4 pips.
USD/CHF with spreads below 3 pips.