Published on Wed Nov 23rd, 2016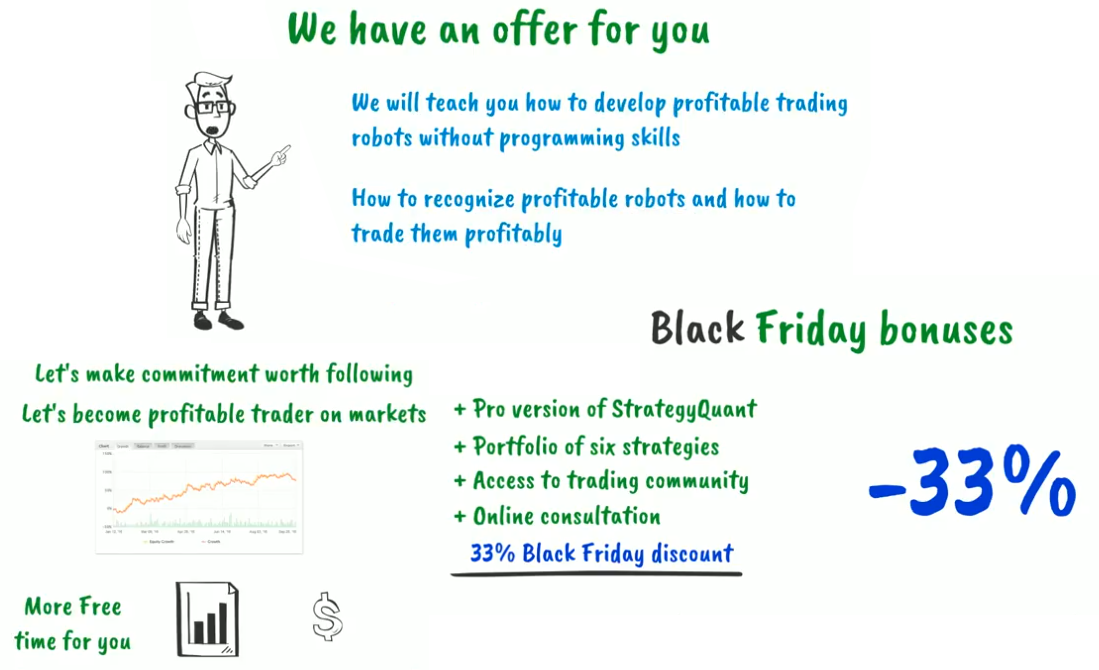 On the next Black Friday, StrategyQuant PRO will be discounted by 33% ($500) in addition to other valuable bonuses. Here are the full package details:
An Online Video Guide of Six Lessons on how to Speed up Trading Business.
E-Book - 56 Pages Packed with Dynamite of Trading Advice.
Lifetime License of StrategyQuant X, the outstanding software for strategy development using the first level of artificial intelligence.
Lifetime License of Quant Analyzer. for strategies portfolios analysis.
Lifetime License of AlgoWizard, for EA creation and development without any programming skills.
Portfolio of Six Strategies that are already used by traders and have made a Profit of Over 30% this year.
Access to a community of traders that help each other to succeed.
FREE Support.
FREE Personal Skype Consultation with Kornel Mazur.
There'll be a full guide on How to Become a Successful Trader!
What is Trading using the StrategyQuant X Software about?
It automatically detects profitable trading strategies to make the right decision at the proper time.
It runs all the strategies' robustness tests to ensure their profitability.
It eliminates emotions that might affect human trader decisions during trading.
It eliminates stress from trading as it's not a human too.