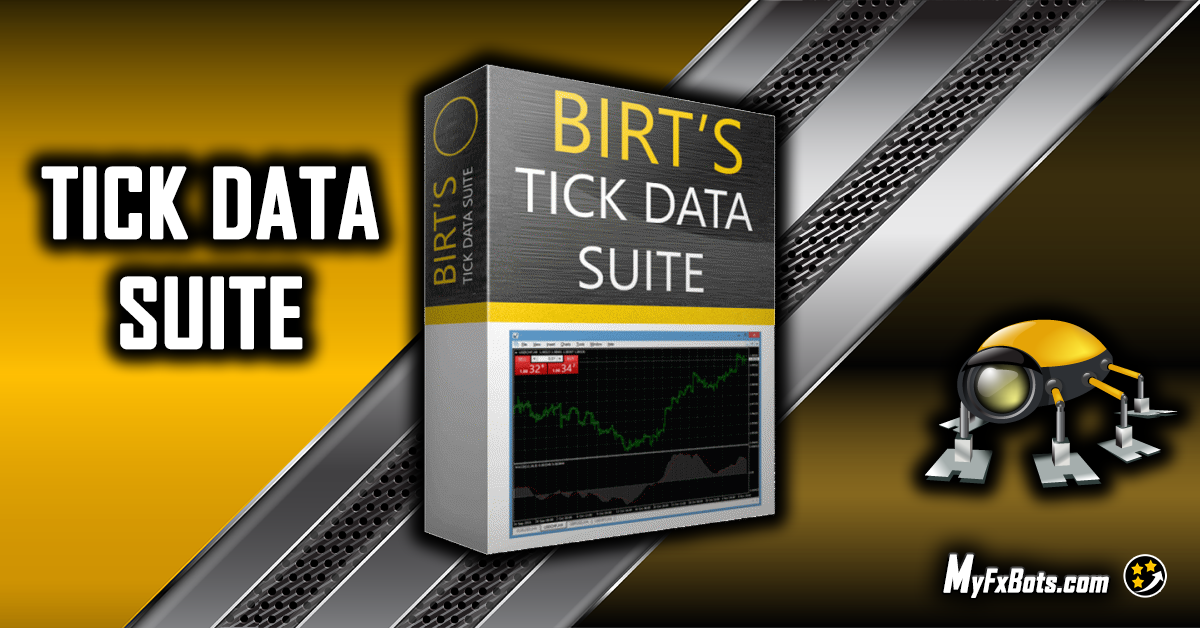 Starting from Tick Data Suite v2.2.31, this major feature was added: it is now possible to run backtests using Renko bars natively. This was previously possible only with the assistance of 3rd party software through a cumbersome process with a somewhat unfriendly learning curve; now it is available directly in the Tick Data Suite Settings dialog and it can be easily configured with a few clicks. This is the first exotic bar type to get added with others to follow.
Other than Renko backtesting, it's worth noting that TrueFx has completely changed the data structure and removed most of the old data from their website (the data starts from 01.2019 now) so TrueFx downloading has been changed to a mirror server and is now only available with an active subscription.
Previously Added Major Features and New Broker Data Servers
Alpari, Histdata.Com Tick Data And Execution Slippage
Starting from Tick Data Suite v2.2.1, a bunch of major new features were added:
It is now possible to download tick data from Alpari. If you have an Alpari account, you can even select the particular server that your account is on.
Tick data can also be downloaded from histdata.com.
Execution delay slippage can be simulated.
There are also other new features worth mentioning:
Pending orders (including SL/TP) can be configured to execute at the price that triggered them. Enabling this will ensure that your orders can no longer execute in the middle of a gap.
As part of the spring cleaning, tick data that is no longer needed can be safely deleted by means of a new specialized dialog. You can also use the same dialog to inspect the tick data that you have in your repository for a given symbol.
Another spring cleaning feature is a new dialog that allows the deletion of HST files for GMT and DST configurations that are no longer needed. Since these can take quite a lot of disk space and are automatically created whenever they are needed, it's safe to delete most of them.
It is possible to manually initiate a data rescan for a single symbol in case you have any issues with the data.
Tick Data Suite Internationalization And Other Improvements
Since May 9th, 2018 Italian, Hungarian, and Romanian translations are available in Tick Data Suite releases. Other languages were added in the subsequent year as Russian, German, Chinese (traditional), Chinese (Simplified), Czech, and Slovak. Spanish was added later too.
The symbols were also updated: a bunch of new symbols became available – most notably BTCUSD and some US stock symbols – and the starting date was adjusted for several existing symbols as data further in the past became available.
If you're interested in cryptocurrencies, you will be glad to hear that it is also possible to download data directly from the Bitcoin Charts repository.
The latest versions also include some optimizations that reduce memory usage during backtesting together with a slight improvement of the MT4 start-up time. Even more, the internal tick control routines were optimized to provide a speed boost during backtests.
The live execution simulation has been made available in the Open prices only and Control points model models so if desired pending orders and SL/TP hits can be executed at the price that triggered them.
FxOpen Tick Data
The Tick Data Suite beta version (v2.2.23) opens the gates for downloading FxOpen tick data.
The data is hosted on an eareview.net server and it is consequently available only to users with an active Tick Data Suite subscription. If the subscription ends, the data that was already downloaded can still be used but no new FXOpen data can be downloaded.
Darwinex Tick Data
The Tick Data Suite beta version (2.2.26, released on 28.03.2019) also brought the ability to download the tick data offered by Darwinex.
Since the data provided by Darwinex consists of the separate bid and ask files, the traditional bid & ask ticks used in MT4 are constructed incrementally, advancing through the bid and ask prices and creating a new tick for each new bid or ask price.
As with the FXOpen tick data, the Darwinex data is processed and hosted on an eareview.net server and it is consequently available only to users with an active Tick Data Suite subscription. If the subscription ends, the data that was already downloaded can still be used but no new Darwinex data can be downloaded.
Bar Data Export And Spanish Version
Starting from the Tick Data Suite v2.2.28 beta, several new features were added too.
The most complex addition is the bar data export. It is available as a new tab in the Symbol operations dialog (accessible by means of the … button next to each symbol in Tick Data Manager) and it can process the tick data into bars and export multiple timeframes at once. The Timeframes dialog allows the selection of the timeframes selected for export; custom timeframes can be added in the same place, with the facility to select the unit and the number: for example, a 15-second timeframe can be added alongside a 10-minute timeframe and a 3-hour timeframe. The bar data export can be controlled in a fashion very similar to the tick data export, either by selecting a predefined format or by adding the fields manually with a format specifier for each.
On a related note, it is now possible to save and load the export configuration for both the bar data export as well as for the tick data export. This allows saving a custom configuration so that the selection doesn't have to be performed manually every time an export is required in the given format. Furthermore, the last used export configuration is automatically remembered and will be presented the next time the dialog is opened.
It's also worth mentioning that this version makes Spanish available so if you're a Spanish speaker be sure to try it out and let us know if you see any issues with the translation.
New Exotic Bar Types, Command Line Export, & Search
The Tick Data Suite beta version – v2.2.41 – also brought a whole bunch of new features. Among these can be found:
More Renko bar types: custom, Median, Turbo, Hybrid, PointO, etc.
Range bar simulation.
Tick bar simulation.
The ability to export tick data using command line parameters allows the creation of shortcuts or batch files that can be used for repetitive data exports.
Symbol search capabilities have been added to the Tick Data Manager as well as to the Tick data settings dialog. In addition, it's now possible to use a filter for the Tick Data Manager symbol list.
The H4 and D1 bars can now be shifted by a customizable amount of hours, allowing them to be brought in line with some non-standard symbol setups (for instance H4 bars starting at 1 AM).
Some new export fields were added such as the Unix timestamp or total volume for tick data and the bar end date/time as well as the bar timestamp for bar data. In addition, it is now possible to import CSV files that use a Unix timestamp for the time field, something that should be detected automatically just like the other time formats.