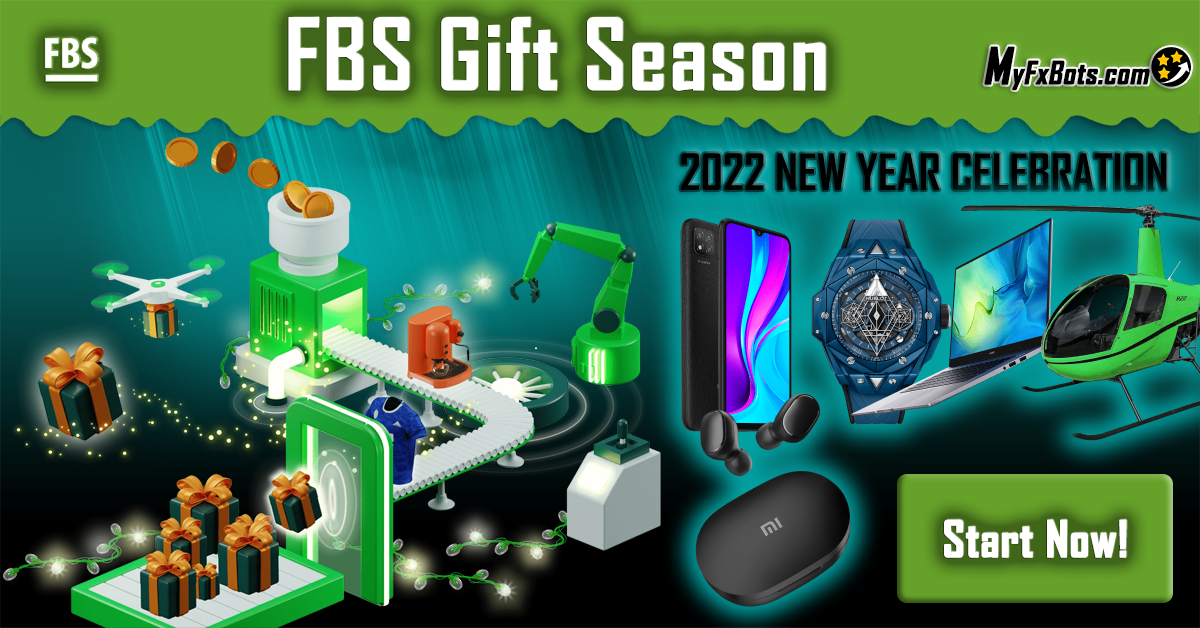 It's time for New Year magic. Celebrate with FBS and trade to get fantastic prizes! From December 20th, 2021 to January 20th, 2022
Turn Your Trading Into Gifts
Trade with FBS and launch your own Gift Factory. Your deposits and traded lots will magically turn into amazing prizes!
Deposit

Top up any Real account. The more you deposit, the more prizes will be unlocked.

Trade

Trade as much as you can and exchange-traded lots for unlocked prizes.
Prizes
Many cool prizes are waiting for you. Want the limited ones? Hurry up to trade!
Hublot Big Bang Sang Bleu II

Сonvey prestige and confidence with this state-of-the-art watch.

Xiaomi Mi True Wireless Earbuds Basic 2

Quality earbuds to free your hands and play your favorite tracks.

Xiaomi Redmi 9C 4/64GB

Smartphone to cover all your living and trading needs.

Huawei MateBook D 15 i3

Powerful lightweight laptop to work at home or outside.

Samsung Galaxy A03s 4/64GB

A fantastic device with an HD+ display and powerful processor.

OPPO Reno 5 8/128GB

Remarkable efficiency and breathtaking photo quality.

Robinson R22 Helicopter

This incredible two-seat helicopter is sure to blow your mind!

iMac 24"

The best computer for creatives and traders!
How to Get Prizes?
Open an FBS account and join the promo.
Make a deposit, trade, and collect lots.
Choose your prize and get it!
How much deposit and how many lots do I need?
On the promo page, you will find a complete list of prizes with the required amount of deposit and traded lots. Get started and choose any prize you want.
What are the rules of participation?
The rules are pretty simple.
Join the promo.
Make a deposit to unlock the prize you want.
Trade, collect traded lots, and exchange them for the prize!
FBS calculates deposits and traded lots on all Real accounts. Please note that the calculation of lots for a prize begins only after the required deposit amount is made (it is specified for each prize on the promo page).
What is the difference between two identical prizes I see on the promo page?
The prizes themselves are absolutely identical, but the required amount of traded lots are different. For example, you can receive an iPhone 13 Pro in exchange for 500 traded lots, but there are only 20 items available, so you need to hurry. Or you can take your time and trade at your convenience, but you will need 1300 traded lots. In this case, the number of iPhones is unlimited.
Can I get two or more prizes?
Yes, you can get two or even more prizes, but they must be different. For example, if you chose an iPhone as the first prize, you can't get the second one, but you can choose any other prize.
Please note that the lots you spent on the first prize will be charged off. However, your deposit will continue to accumulate to unlock more expensive prizes.
How will I get my prize?
When you choose the prize, you will be asked to fill out your address information. FBS will send your prize as soon as possible. While you are waiting, you can trade more to get a second one.
17 million traders from over 150 countries choose to trade with FBS. FBS are proud of their reputation as a transparent and reliable broker.
Global Banking & Finance Review

The European

Best Broker Thailand 2021

Global Banking & Finance Review