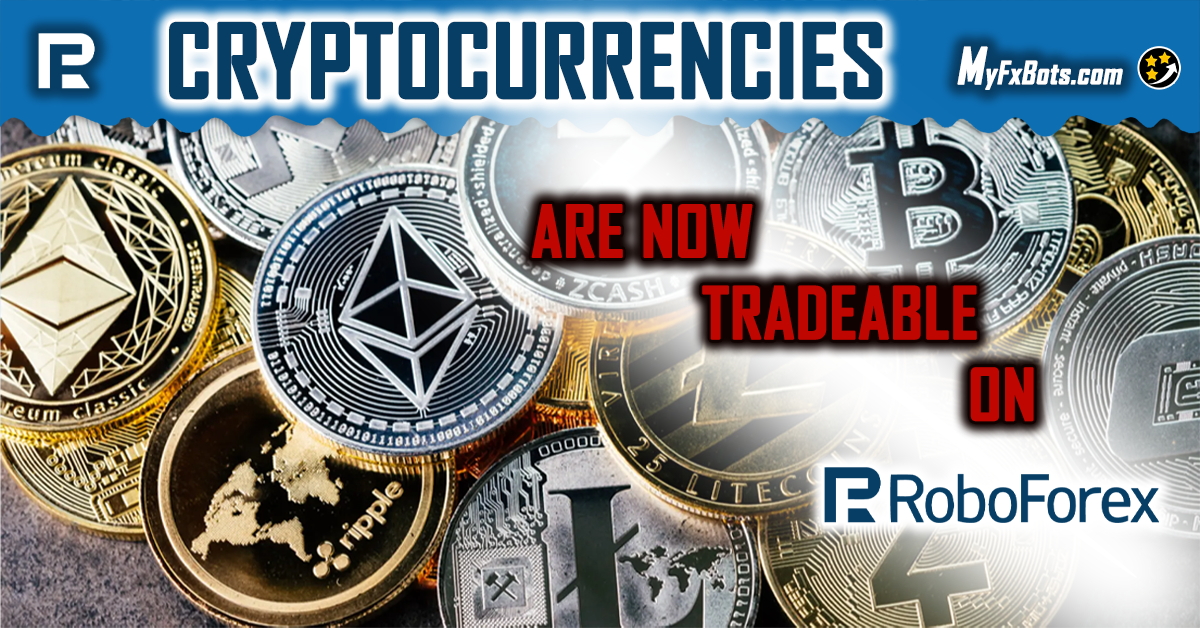 A new opportunity is now available at RoboForex, traders can now trade CFDs on Crypto-Currencies, like Bitcoin, Bitcoin Cash, Dash, Ethereum, Litecoin, and Ripple.
CFD on 6 Crypto-Currencies.
Trading 24/7.
On MetaTrader 4, MetaTrader 5, R Trader.
BTCUSD (Bitcoin vs U.S. Dollar) Bitcoin is the first known and most popular digital currency in the world.
ETHUSD (Ethereum vs U.S. Dollar) Ethereum is an open blockchain platform for making non-central web services. Ether is the exchange unit of the platform.
XRPUSD (Ripple vs U.S. Dollar) Ripple is a Crypto-Currency platform for payment systems operating in foreign exchange without return payments.
BCHUSD (Bitcoin Cash vs U.S. Dollar) Bitcoin Cash is a fork of bitcoin created as a result of the difference in opinions on bitcoin's scalability.
DSHUSD (Dash vs U.S. Dollar) Dash is a blockchain-based Crypto-Currency payment system, that uses advanced transactions technology.
LTCUSD (Litecoin vs U.S. Dollar) Litecoin is another fork of bitcoin in the form of a peer-to-peer payment system, which uses the Crypto-Currency with the same name.
RoboForex Accounts that trade Crypto-Currencies
ECN-Pro accounts These accounts are designed for the most experienced traders who prefer comfortable trading conditions with tight spreads.
R Treader It's an account on the new generation multi-asset platform with access to more than 8,700 trading instruments.
Pro-Standard It's the most popular account type at RoboForex and is suitable for traders with different trading experiences in the currency market.
Prime accounts These accounts are intended for professional traders, who prefer optimal trading conditions with the lowest spreads.
Posted By
[Last Modified On Thu Apr 19
th
, 2018]
By
[Last Modified On Thu Apr 19
th
, 2018]
Published on
Thu Apr 19th, 2018
Information, charts or examples contained in this blog post are for illustration and educational purposes only. It should not be considered as an advice or endorsement to purchase or sell any security or financial instrument. We do not and cannot give any kind of financial advice. No employee or persons associated with us are registered or authorized to give financial advice. We do not trade on anyone's behalf, and we do not recommend any broker. On certain occasions, we have a material link to the product or service mentioned in the article. This may be in the form of compensation or remuneration.