Published on Fri Aug 8th, 2014
As BTC & FAPTv2.1b Premium traders confirm that it has been doing well with the recent optimized settings released by the robot developers a couple of months ago.
However, queries are sent from many who are still didn't apply the new updated settings on FAPTv2.1b, or even worse, some are still running the very first version of FAPTv2.0 on their accounts! If you were one of them, the robot owners strongly recommend to switch to BTC & FAPTv2.1b Premium while it's now the current official version.
Jun to Aug'14 Optimized Settings + PDF Guide
If you missed the last announced official update, here's the gains from that latest settings could achieve for this year 2014, see below. The profits gained from Bitcoin alone could reach +$16.3k which is superior to other pairs that contributed about +$9.5k; a sum of $25.89k just for this year! So, your copy of the latest robot version is not yet up to date with the latest optimized settings, please download them from this link and follow the included PDF guide clearly explained instructions.
FAPTv2.1bPremium_bestpresets_JuntoAug14.zip
In addition to applying the new settings to the latest version of the robot, its developers also encourage traders to trade more frequently with it on the best pairs "The more you trade, the more profits you will make!" according to their predicted statistical figures, they are expecting a realistic win rate of 75-85% (varieties are according to the pair). The table below, shows how the robot performed in 2014 over the past couple of months, since when the new optimized settings were applied from June'14 onwards.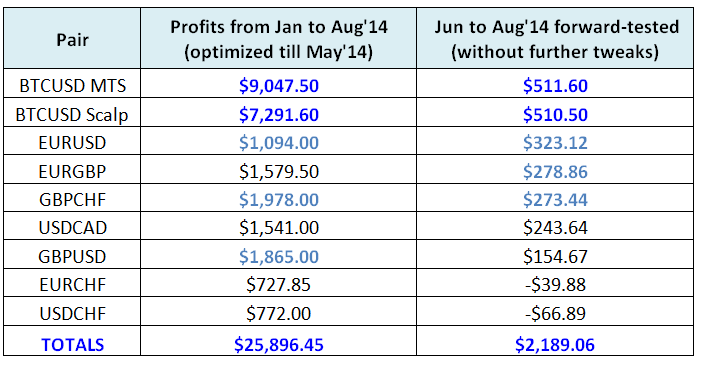 However, the robot developers have focused on something while announcing the new update, they asked the traders NOT to make any further modifications once the official new settings are applied to the installed robot, even if occasional losses took place. They rely in that to the listed results of last column of the table above that was achieved just with applying the latest settings over the past two months alone, and confirming that any other trader that followed their advice 2 months ago and applied their settings without any further modification, he could get similar results in his account; a total of $2190! So, there is no need now to further modify the latest released settings as these are already preset optimizations for the best possible performance during Jun to Aug'14.
They even reiterated this twice in the same announcement ensuring that the best settings of FAPT2 robots are already released by them, just follow their advice and stop making changes for the best results, even if you'd feel that some trades aren't going the way you expected it to go. The top pairs are still the same as they were, i.e., BITCOIN, EURUSD, EURGBP & GBPCHF. GBPUSD has a decent medium-term return too, so it can be added to your portfolio as well. That's it for now as far as BTC & FAPTv2.1b are concerned.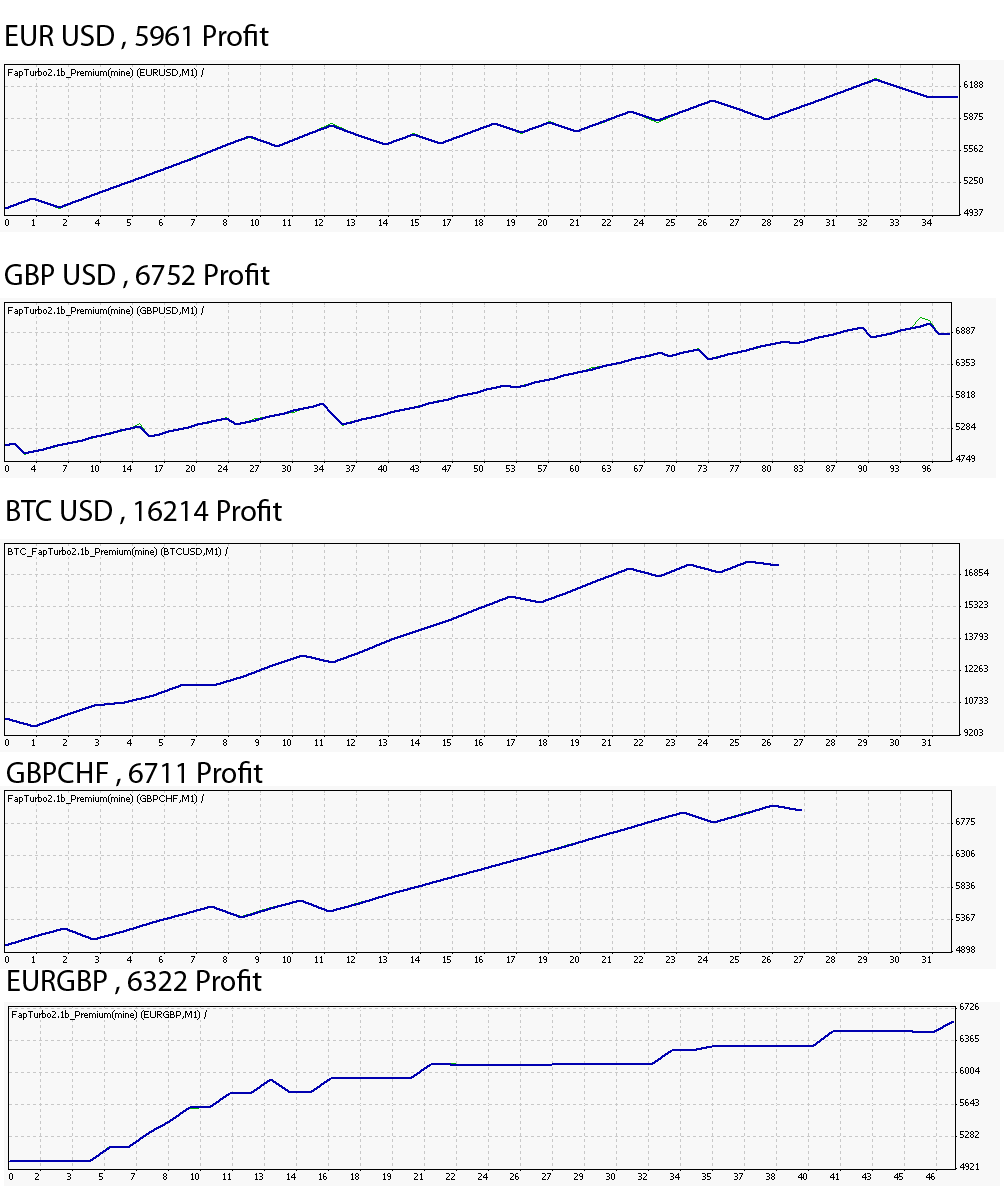 => Download the new settings
NEXT UPCOMING UPDATE: FAPTv2.2 PREMIUM
A great news beside the new optimized settings release is that there will be an entire range of developments going into the next upcoming version of this unparalleled Forex robot, i.e., BTC & FAPTv2.2 Premium. In every announcement they release, FapTurbo2 developers ensure that they always find ways to enhance its performance, particularly with the new TrailingStop feature and other improvements.
They have mentioned that the main update in the FAPTv2.2 is that it will have the option to automatically check for updates, download and apply them directly in trading from the official servers, so there will be no more worry about manually applying new settings and keeping it up-to-date with the market. The beta-test of the new version is already ongoing now.
We all hope to get the new version soon! Stay in touch, there will be more news to follow â€Â¦
SUPPORT: If you need to contact the Premium Support (especially for a technical issue), you can email them at premium
fapturbo2.com and make sure to include a full and complete data describing your unresolved issue along with a full screenshot of your MT4 with the robot's settings on the chart. For general issues, you can contact them at support
fapturbo2.com
If you'd like to join FapTurbo2 for the first time and haven't yet opened or funded your live accounts, then please make sure to join through the link below. If you intend to trade on all the best Forex pairs plus Bitcoin which is the most profitable pair, then $1000 is the minimum recommended account balance to get started as sufficient margin will be needed to get the best profits from your account.
Still new to Fapt2? Open accounts and start trading.