Published on Mon May 4th, 2015
Easily Automate Your Trading Idea
In the past, if you had a good trading idea you had to be a good programmer hire a good programmer to create a custom indicator based on that idea, but now you don't need that!
Now, you can do it yourself with just a few easy clicks! Using an easy axiomatic interface that can be useful even for professional programmers that need to engage complicated trading rules with a minimum effort.
EA Builder is a new intelligent tool that can effectively do that. It can create not only Forex custom indicators for MetaTrader 4 platform, but also custom indicators for stocks, commodities and others, compatible with MetaTrader 5 and TradeStation platforms.
Now you can easily turn your trading ideas into robots and indicators!
Download Free Cool Indicators
The good thing is that if you just visited EA Builder website now you can download a FREE cool set of indicators that was built by it for MetaTrader 4 and TradeStation: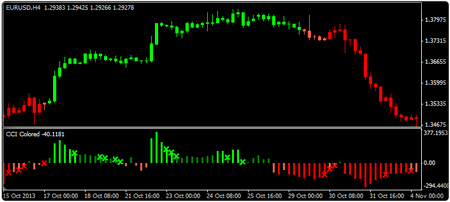 Trend Colored: Colored candlesticks displaying the trend and is based on two moving averages and the slow moving average slope.
CCI Colored: CCI indicator displayed by different colors at levels 0, 100 and -100 where the cross represents a "123 Exit" signal as shown by MPlay and employed by Woodies CCI system. The importance of that signal is most in short-term breakout trades as it prohibits premature exits due to small corrections.
Trendline Break Alert: It's fired when a candlestick closes above or below the trendline or horizontal line. It's an audible alert.
Get these cool Indicators for Free
They are open source indicators, what means that you can add your own modifications to them, not only their colors, arrows and parameters, but also the conditions and the basic rules without any limits, this can include for example modifying audible alert to be fired when two indicators cross or when a price touches a certain level. This will be extremely useful!
A video tutorial is included in the indicators download page showing how to install them successfully.
How EA Builder Works?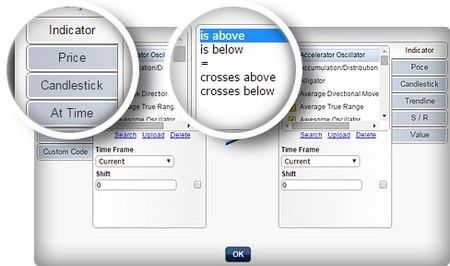 As this amazing tool is not designed for professional programmers only, its creators have prepared a bunch of interesting video tutorials to help both experienced and junior traders who aim to automate their trading ideas.
They form a step-by-step guide on how to create indicators and strategies by your own away from writing even one line of codes. These videos are hosted by YouTube and can be found down the page found in the link below
Moreover, in these videos you'll learn how to design, backtest and optimize a profitable trading strategy that works for MetaTrader or TradeStation, both can be handled by the software and both are discussed in the video tutorials.
How to Create Trading Indicators.
How to Create Trading Strategies.
Daily Breakout Trading Strategy.
Daily Breakout with Pending Orders.
Trading Strategy Optimization.
Demonstration of Money Management.
Trendline Breakout Automated Entry.
Which is the Best, MetaTrader or TradeStation?
First, let me tell you the difference between the FREE and paid versions of EA Builder; with the free version you can create custom indicators for your own compatible with the 3 supported platforms; MetaTrader 4, MetaTrader 5 and TradeStation with no limits at all, but to make automated Forex robots for hands-free trading, you'll need to pay a one-time fee to access the software full features.
As TradeStation is a primary futures trading platform, EA Builder also supports it beside its main platforms MetaTrader 4 & 5 and it can generate the source code in any of the three programming languages:
MQL4 language for MetaTrader 4 that stands for MetaQuotes Language 4.
MQL5 language for MetaTrader 5.
EasyLanguage for TradeStation that should be the easiest but not for a complete junior, that's why EA Builder was developed.