Published on Thu Nov 3rd, 2016
FxAutomater, the best reputed and most trusted EA provider on the market who are still supporting all of their products, one of which was first released 7 years ago. They have just released their most sophisticated EA they've ever developed WallStreet 2.0 Evolution, it included a game changing tool "Broker Spy Module", it's the first of its kind that can expose unethical brokers, it'll be an invaluable tool for every trader.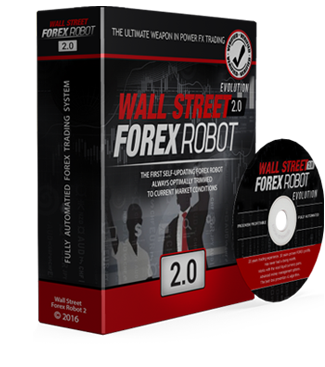 The best of WallStreet Forex Robot logic is still coded into WallStreet 2.0 Evolution added to many improvements that enhance the system's profitability to a whole new level.
No EA even the best ever, can 100% avoid bad trading periods, but WallStreet 2.0 Evolution can be considered as an EA that is very close to the perfection.
All we know there is no "Holy Grail" in the trading and there will always be bad periods even for the best EA, but we can assure you that WallStreet 2.0 Evolution is very close to the perfection.
Evolutionary Features of WallStreet Forex Robot 2.0 EVOLUTION
WSFR 2.0 Evolution
The proven, core trading principles of the original Wall Street Forex Robot are kept, improved and taken its functionality to a whole new level.
BROKER SPY MODULE
This powerful first of its kind Module was developed and refined in over 2000 hours. It functions primarily to protect the trader's capital from unethical brokers that may cheat with high negative slippage, high spreads or delayed order execution. The broker can now be monitored every minute and revealed if it's stealing from the trader.
REAL-TIME Settings Update System
In the previous standard version of WallStreet Forex Robot, the trader had to restart the EA for the new updated settings to work properly, this is not needed any more with this revolutionary, industry-first of WallStreet 2.0 Evolution.
Increased PROFITABILITY
As was said before, the best of WallStreet Forex Robot logic was kept in addition to multiple improvements to enhance the system's profitability to a whole new level. This is obvious by comparing the results simulated performance of both WallStreet 2.0 Evolution and the WallStreet Forex Robot for the same period of time:
New Improved Exit Trading Logic
Higher System Trading Frequency
Minimized Risk to the Lowest Reasonable Levels
Improved Profit Protection System
The Possibility to use Pending Stop and Limit Orders
The EA Developes Team
It consists of professional traders and software coders with over 30 years' cumulative experience in forex trading and automated trading systems development, each of whom has given the best of their knowledge, skill, and experience in designing this unique product.
LOW-RISK Scalping Following Short and Medium-Term Trends
It's the probably best time-proven trading method and constitutes the basic core of the EA functionality. It was time-tested since forex has been traded online and was proved to be the best by generating millions of dollars of profit for the professional forex traders that use it since then. It is a uniquely stable trading principle which has proven its profitability over the years that forms a powerful weapon which allows generating profits at low risk and boasting forex trading success.
It's a Machine Not a Human
A human, when he trades his decisions get swayed by emotions, transient indispositions or other negative factors and circumstances, unlike a software product which assesses and performs each potentially profitable market situation detected by its program logic with 100 % correctness and discipline. It identifies and closes any deal in a manner that is 100% unbiased at all times; something of which even the most disciplined trader is incapable.
Automatic Risk-Calculating Algorithm
It's a built-in feature that enables the EA to determine trading volumes based on the account risk percentage per individual deal. There's also an option to activate a unique algorithm to effectively compensate for any current drawdown.
Openeing Positions & Trading Method
Opening positions as performed by the EA against daily movements that have a high probability of success and by keppeng sticky to a trading method that has proven itself over years of use by many professional traders.
Defensive Stop Loss orders
No professional trading system can be devoid of such protection system that makes it impossible to lose an account in a sole transaction, as used to happen with too many traders who fail to set defensive stops.
Losing Positions
Piling more and more on to losing positions hopping that the market might turn is the biggest mistake many traders make and the major reason for account losses. It's well recognized by the EA developers and is completely avoided in their amazing new invention.
Introducing Limited Offer
To celebrate their new invention, FxAutomater has offered a -$100 discount on the regular price of their new EA which is $347 to become $247 until November 10th, 2016.
Don't miss this opportunity and get your copy of WallStreet Forex Robot 2.0 EVOLUTION.