Published on Sun May 4th, 2014
It may be a bit late, but it now has been completed, the latest BTC & FapTurbo v2.1b with the new BreakEven feature and improved MA and Trend filters are finally here! Highly reinforced versions to address bad trades while targeting the best profits in the medium-term.
As mentioned in the previous post update about FAPTv2.1b's features, they were immensely improved over the first FAPT2 version results. As stated by its authors, with the latest modifications and refinements, FAPTv2.1b could yield long-term profits close to +$40,000 on all pairs, starting by Jan 2010 till now, with maintenance of a closer focus on improved profits in the medium-term that crosses $22.5k just over past year! By the next May 2014, the EA authors are expecting a 12% profit return according to historical data, even with conservative lot risk settings!
BTC & Fapturbo 2.1b improvements:
HIGHER PRIORITY FOR SHORT TO MEDIUM-TERM RESULTS: The latest FAPT2.1b robots have been perfectly coded to be able to give the best results over a medium-term period while reasonable profits can still be maintained over the long-term, specially from 2010 and beyond. However, as time advances, FAPT2.1b robots will always consider the most recent market activities and reduces interest in older data, to be more interested in upcoming market trends or ranges.
BREAK EVEN feature added: The BreakevenOffset feature allows you to conserve profitable trades from turning into a loss if the market price was to switch to a direction against a favorable one.
Additional Parameters for Filters: If have already tried the entry filters such as FilterMA (Moving Average) and TrendFilter, you'll get more dexterity to try these filters more flexibility to change the indicators timeframe, filtering out more bad entry signals. For instance, if FAPTv2.1b is running on an M15 chart, the FilterMA can actually be set to watch the Moving Average on H1 or H4 internally, so the robot will have a wider view to more accurately recognize the current trend and so it will take a more precise decision if the current prices break through that slower MA or not.
This is a real example of the robot's results with a fine-tuned TrendFilter on EURUSD (starting from 2014 till now); notice the neater, upward rise in profit particularly towards the end regardless the recent market trend! This equity graph reveals everything!
EURUSD (2014), WITH TRENDFILTER TFNum = 3â₉€Â¹

Increased PROFIT/LOSS ratio: The first FAPT2 version TakeProfits were sometimes too high to be reached within a reasonable timeframe, even with lower T/Ps according to some customer reviews, this was taken seriously and the T/Ps was lowered for each pair, while a good Profit/Loss ratio is still maintained across all pairs.
Automatic MaxSpread (-1): If MaxSpread was set to -1 in the latest FAPT2.1b robot, it could automatically set the best MaxSpread depending on the broker the robot is running on. It is particularly fine-tuned to FxChoice tighter spreads to get the best results on each pair, while for Tallinex the MaxSpread is set to 10 pips by default.
Improved WatchLevels in StealthMode: This improvement secures a closer watch by the robot on a trade particularly around the T/P and S/L levels while in StealthMode.
Authentication: Some validation issues and a few non-critical errors that had been occurring ever since the Mt4 forced update to Builds #600 and above, all were addressed.
Cosmetic changes: The robot's chart will now display the new BreakEvenOffset info.
Latest Results - BTC & FAPTv2.1b Premium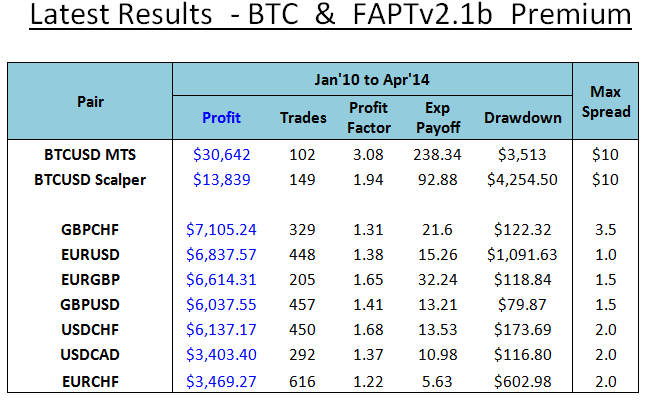 ==> BTC FAPT2.1b Premium Official Website