Published on Thu May 22nd, 2014
At the end of this post, I've included 2 complimentary reports, made and highly recommended to download and read by Vladimir Ribakov, the well known Forex expert and mentor, and owner of Vladimir's Forex Signals & mentoring! One of these reports is for beginner traders and the other is for experienced ones.
But before proceeding to download, you should take a few items into consideration
The internet now is full of information about Forex that you often tend to search for online to enrich your knowledge about Forex and trading strategies.
The first to take into consideration is to be so curious while you are doing that, you may put your trust in incoherent or even misleading information in many cases!
Due to the high popularity of the Forex market, many scammers are out there with nothing of real value to provide.
Common scamming tactic Forex scammers used to do
They navigate from one to another of the numerous free Forex forums, pick up some indicator that seems to be new and interesting, pack it up in the form of a commercial package, then try to sell it to you, you may then buy it to get something worse than useless, something that would cost you far more than its real value.
It will cause money loss on trades too!
Of course, this will make you so disappointed believing that nothing like that really works ever exists!
How to avoid such a Forex scamming tactic?
Very easy!
Make certain of enough investigation about this Forex tool or service provider, his past experience in trading, and his former customer reviews.
If he was just a name with inadequate or no testimony or even if you can't find a name at all, don't even think of trying this thing in your kitchen! This is a simple rule that will help you to avert about 90% of con artists out there, guaranteed.
Greed is another trap you need to avoid
At the end of 2012, a new story has occurred to some junior traders at Vladimir's Forex Signals & mentoring, Vladimir has shared it publicly to be an exhortation!
"Investor Style" is one of Vladimir's favorite strategies that he uses and teaches his students.
Strict iron rules must be followed for "Investor Style" or almost any other trading strategy, system, or method success, Vladimir's students were fully aware of these rules.
Unfortunately, some of those students after using this strategy with success for months became too greedy and began not fully commit to those rulesâ₉€Â¹ by using high leverage ("leverage" meaning will be discussed soon!).
Finally, of course, it has ended badly for them!
These traders' greed and lack of full compliance with the rules, made them lose their money instead of growing it. Later they had the propriety to admit that they surrendered to their greed and wanted more!
This was the first rule about trading and investing:
Don't be greedy!
Neither in your trading nor in your education too, just take one step at a time and don't rise your velocity unless you feel comfortable.
And never feel bad if you are just beginning!
The Forex world is amazing! rich in both adrenaline and profits, but you need to have enough patience and persistence to get it!
Forex is a wonderful world, full of adrenaline and profits. But you have to be patient and persistent and you'll get it!
Now here are Vladimir's complementary reports
For beginners
The report gives a practical real-life trading experience explaining a simple but very interesting trading strategy developed by Vladimir Ribakov.
Classic Boundary Breakout Strategy
For advanced traders
The report includes some advanced candlesticks patterns in addition to the ways Vladimir Ribakov personally uses them in his real trading.
The secret meaning of Japanese Candlesticks - Part 1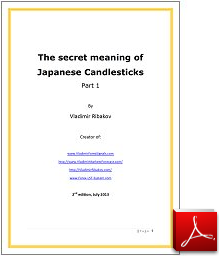 Click to Download
The secret meaning of Japanese Candlesticks - Part 2

Click to Download
P.S. If you're curious about the "Investor Style" strategy, Vladimir Ribakov teaches it and his other strategies in his Forex Signals & Mentoring club here:
==> Forex Signals & Mentoring Club
This is considered a very powerful strategy as it has proven itself time after time after time.