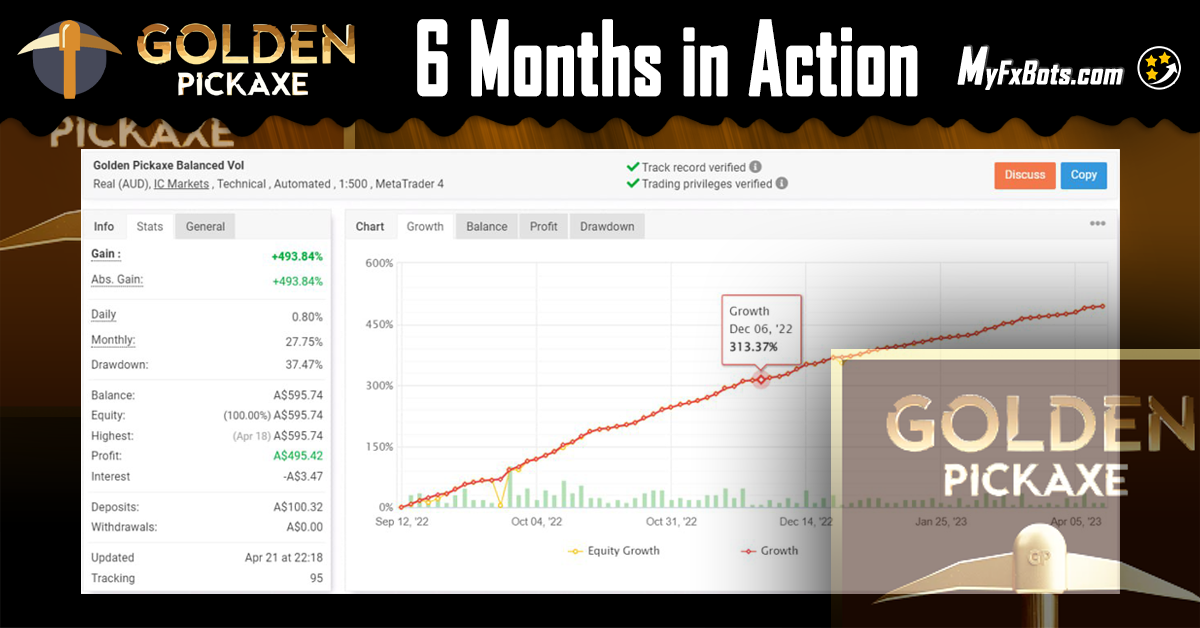 Yesterday Valery Trading developers team celebrated 6 months since the Golden Pickaxe was released. During these 6 months, a lot of things have happened in finance: bankruptcy of FTX and several banks in the US, the Fed rate growing at a record pace, and central banks buying the most gold in all recorded history.
Even one of these events can shake the market, and we got all of them concentrated in a short amount of time. Many think this is just the beginning. But let's not play a soothsayer here. Let's look at the Golden Pickaxe results since its release.
Since the EA developers have multiple accounts with this EA, it makes sense to look at the results of the EA with default settings. These are recommended ones. The EA was released with these settings used as defaults, and it still uses them by default.
You can see the results of the Balanced Vol account on the screenshot attached to this post. marked the moment of the EA release was marked roughly halfway through the track record's length. Even though the risk used on this live account is very high, there have been no big drawdowns on the live track record since the EA release.
That being said, it is her duty as a developer and seller of EAs to remind everyone about the risks of trading. If you want to trade safely, it's advisable to:
Use the set file with volatility filtering, preferably Balanced Vol which is there by default.
Use money management that is not too risky (pp. 44-45 of the Golden Pickaxe guide can help).
Use risk management options, like the 'Max Floating Drawdown %' parameter, to cut risks in case of a significant drawdown.
If you follow these simple recommendations, it's almost impossible to lose more than specified by the EA!
Get Your Copy of Golden Pickaxe
Broker
IC Markets
By
[Last Modified On Tue Apr 25
th
, 2023]
Published on
Tue Apr 25th, 2023
Perceptrader AI is a cutting-edge grid trading system that leverages the power of Artificial Intelligence, utilizing Deep Learning algorithms and Artificial Neural Networks (ANN) to analyze big amounts of market data at a high speed and detect high-potential trading opportunities to exploit.
Information, charts or examples contained in this blog post are for illustration and educational purposes only. It should not be considered as an advice or endorsement to purchase or sell any security or financial instrument. We do not and cannot give any kind of financial advice. No employee or persons associated with us are registered or authorized to give financial advice. We do not trade on anyone's behalf, and we do not recommend any broker. On certain occasions, we have a material link to the product or service mentioned in the article. This may be in the form of compensation or remuneration.