Published on Fri Aug 25th, 2023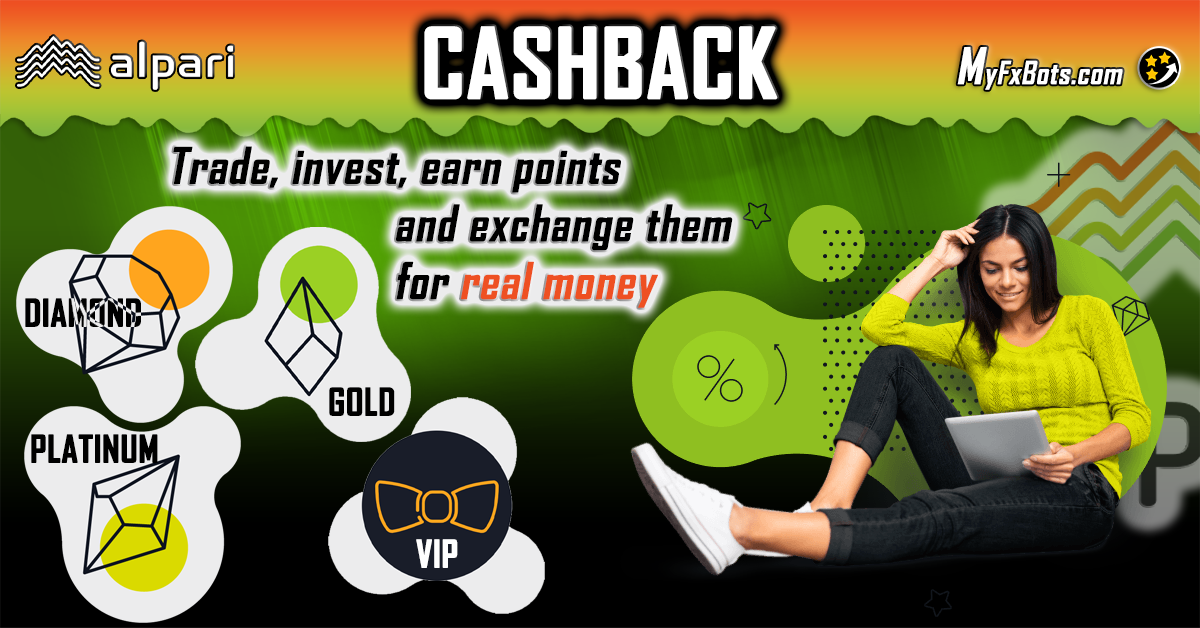 Alpari Cashback makes forex better
Up to 20% Spread refund.
Up to 20% ECN commission refund.
Up to 100% Deposit commission refund.
Up to 40% Improved conversion rate.
In what ways can I benefit?
ALP bonus points are awarded for account deposits, trading, and other routine operations. Discounts, refunds, or cash can be exchanged for these points.
More opportunities come with a higher status
With Alpari Cashback, high status entitles you to more opportunities, privileges, and bonuses.
Depending on your cumulative account balance, you will be notified of your status.
Gold

From 1,000 USD across all accounts.

Platinum

From 5,000 USD across all accounts.

Diamond

From 10,000 USD across all accounts.

VIP

From 40,000 USD across all accounts.
Get cash for your points!
Offers tailored to your needs
Take advantage of personalised offers to earn up to 20,000 points. Get in touch with Alpari's specialists by phone.
Here are some tips for exchanging points
Up to 20% Spread Refund
During a given trading session, the spread is determined by the difference between the Ask and Bid prices. A Forex trader's expenses are primarily related to this. It is more profitable to trade with a lower spread.
For the EURUSD currency pair, suppose a purchase order for 5 lots is placed. In our example, a position was opened with a spread of 1.3 pips (65 USD) and closed with a spread of 1.1 pips (55 USD).

To calculate, we add half of the opening spread (0.65 pips = 32.5 USD) to half of the closing spread (0.55 pips = 27.5 USD). Therefore, this position has a spread cost of 60 USD.

There is a 12 USD savings if you activate the 20% spread refund.
Up to 20% Refund on ECN Commissions
With ECN account types, traders are able to take advantage of interbank liquidity, minimal spreads, and instant order execution. Trades on these accounts are charged commissions based on position volume and instrument type.
In the EURUSD currency pair, let's say a purchase order is placed for 10 lots.

Assume a commission of 30 USD is charged for opening this position.

There is a 6 USD savings if you activate the 20% discount.
Up to 40% Negative Swap Refund
A swap is a fee for holding a position overnight. Central banks set interest rates differently for each currency, which is used to calculate the swap.
In the EURUSD currency pair, suppose a purchase order is made for 10 lots.

Let's assume that your position was opened on Monday and closed on Wednesday. We will assume that $30 USD is the negative swap amount in this situation.

The 40% discount will save you 12 USD if you have it activated.
Up to 50% Refund on Deposit Commissions
In general, commissions are charged on deposits, either fixed or based on the amount.
Let's say you deposit 1,000 USD into your account.

The commission fee for this is 25 USD.

You will save 12.5 USD if you activate the 50% discount.
Up to 40% Improvement in Conversion Rate
There are conversion fees associated with multi-currency transfers, which can be quite substantial. An exchange rate of the company that is not the same as the central bank is used for conversion when you make a multi-currency deposit.
If you invest 1,000 EUR in a USD-denominated PAMM account. The central bank rate is 1.1130, but Alpari offers a rate of 1.0730 when you invest your funds.

There is a conversion fee between the two values. Using our example, this comes to 40 USD.

By activating the 40% discount, you will save 16 USD.
Payment in Cash
Cash can be exchanged for points if you cannot find a discount that suits you. By selecting the amount of points you want to convert in myAlpari, you will be able to exchange them at Alpari's ALPUSD exchange rate.
Assume you have 20,000 ALP in your bonus account and would like to exchange 5,000 ALP for cash.

Then you would submit a request specifying how many points you want to exchange. The funds will also be credited to the account you specified in myAlpari.

Assume that the current ALPUSD rate is 1 USD for 100 ALP. Your account will be credited with 50 USD after your request has been processed.
Cashback FAQs
What can I do with my points?
If you want to improve your trading or non-trading conditions, you should buy discounts:
Negative swap refund.
Spread refund.
ECN commission refund.
Deposit commission refund.
More efficient deposits and PAMM account portfolio investments conversion rates.
Exchange points for cash:
Real funds that can be withdrawn immediately.
Funds for Fix-Contracts trading.
How do I exchange points for cash?
Your points will be exchanged the following week when you request them in the discount window in myAlpari.
How do I take part in the Alpari Cashback program?
The loyalty program is automatically available to all company clients who have a myAlpari account.
How can I get more points?
MyAlpari account status determines how many points are credited. Points are awarded based on your status. Trading turnover is the most important factor in determining points. You get more points per million of trading turnover the higher your turnover is.
When are the refunds for my discount credited?
Once a week, refunds are credited for activated discounts. If a client's transitory account has a different denomination currency than their trading account, refunds will be credited accordingly.Refunds for discounts on trading operations are credited in the currency of the trading account.