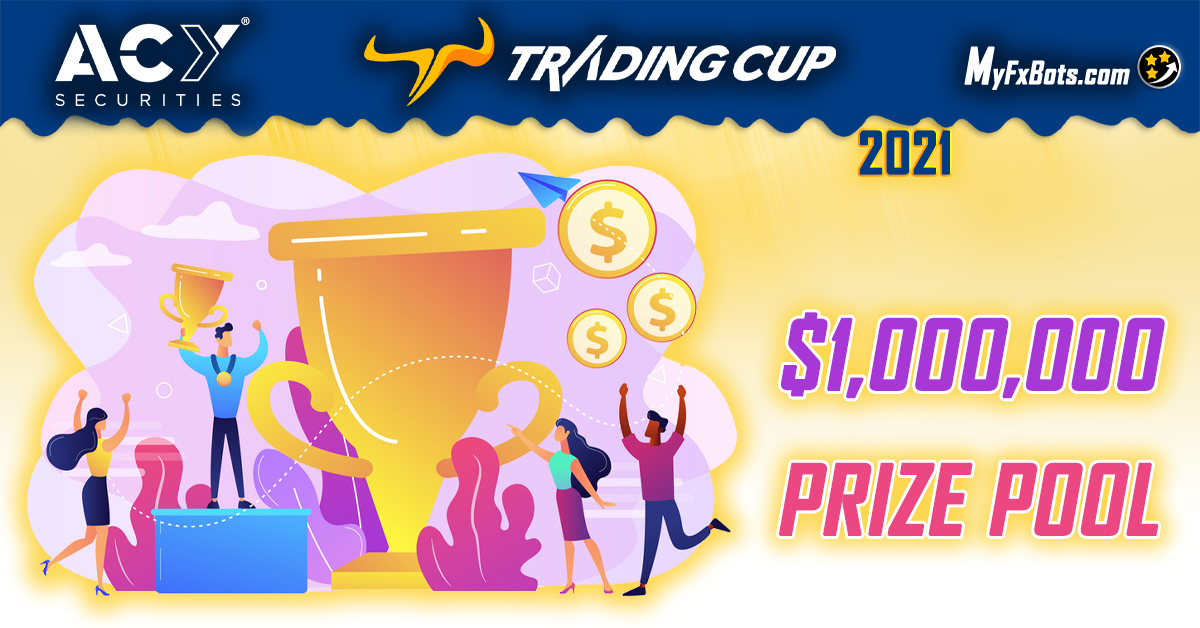 Trading Cup 2021
Introducing the $1M dollar, 1-year contest to discover great traders and fund managers.
Registrations are now open.
1st July 2021 Trading Cup starts.
Full-year contest to prove yourself.
Whether you're a trader wanting to prove yourself or a fund manager wanting to showcase your returns to attract new investors, join ACY Securities's $1M Trading Cup to show the world what you can do.
Ready to up your game?
This is your chance to prove to yourself, and to all those who will follow your journey on this competition that you have what it takes to trade like a Pro!
ACY Securities challenge you to put a sensible trading plan in place and stick to it, practice good risk management, and don't allow your emotions to get in the way of achieving a great annualized return.
ACY Securities ranking algorithm is a game-changer​​
With advanced machine learning and artificial intelligence embedded within ACY Securities's next-gen custom-made ranking algorithm, it takes into consideration not only profitability but also risk management, long-term stability, risk-adjusted returns, draw-down levels, and longevity to rank their contenders.
What you're ranked on
To ensure that traders are ranked fairly ACY Securities reward them in all the key areas that make a good trader. ACY Securities allocate dynamic weighting to key metrics such as:
Average return.
Winning percentage.
Sum profit VS sum loss.
Maximum drawdown.
Sharpe ratio.
Calmar ratio.
Standard deviation.
In addition, ACY Securities use the average level of all contenders' performance as the benchmark to ensure their ranking algorithm is fair and effective.
Why enter the $1M Trading Cup 2021?
$1,000,000 prize pool

Number 1 ranking trader wins a $500,000 account to manage.

Get recognition for all trading skills

Our smart algorithm rewards all key skills of trading, not just profitability.

Get noticed on the world stage

Worldwide audience – get noticed as a trader and attract new investors as a fund manager.

Statistics Widget

Real-time and in-depth display of your trading performance.
$1,000,000 prize pool distribution
With a 1-million-dollar prize pool, the number 1 ranking contestant wins a $500K trading account to the manager and takes half of all profits*.
Rank 1

Wins a $500,000 account to trade – takes 50 of profits.

Rank 2

Wins a $300,000 account to trade – takes 50 of profits.

Rank 3

Wins a $100,000 account to trade – takes 50 of profits.

Rank 4

Wins a $50,000 account to trade – takes 50 of profits.

Rank 5

Wins a $50,000 account to trade – takes 50 of profits.
* Australians are not eligible to receive prizes under Australian law (ASIC). If an Australian-based trader achieves a position in the Top 5, they will receive a Certificate of Trading Excellence. Please see ACY Securities's T&C for further details.