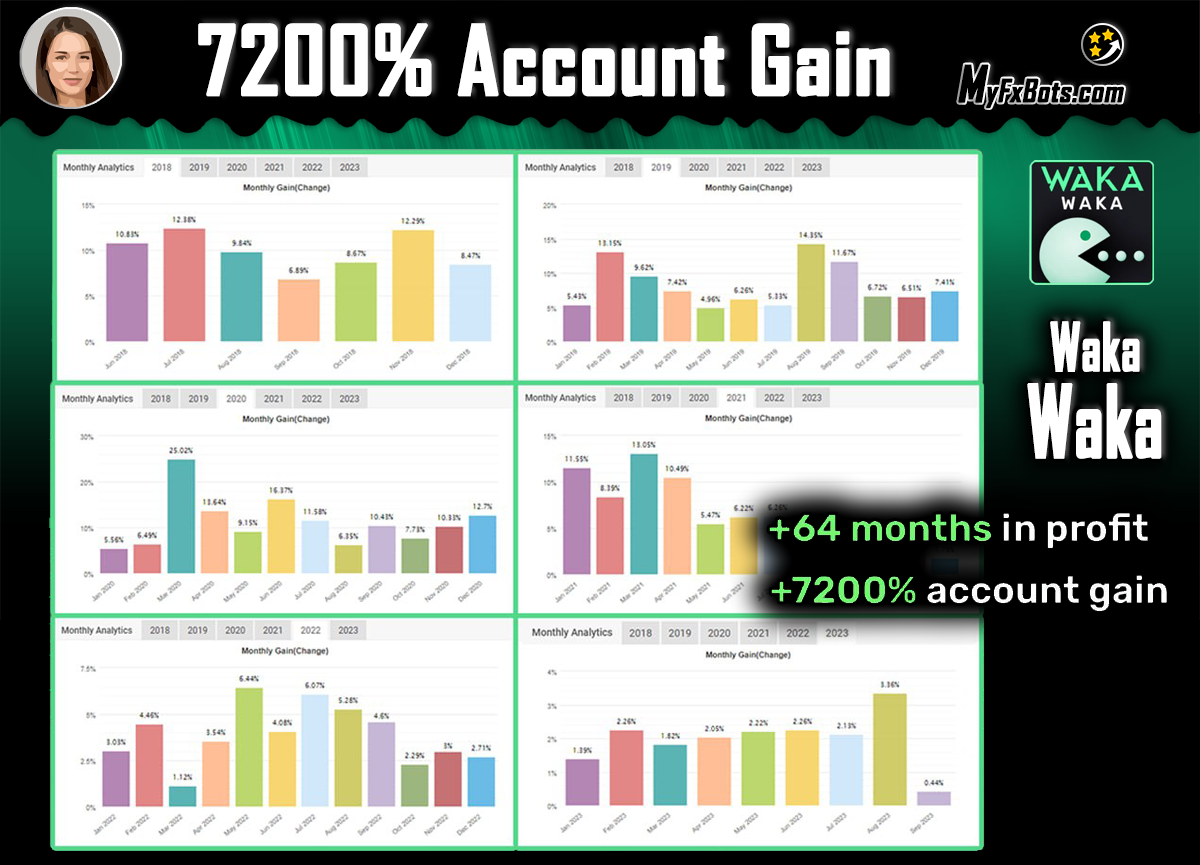 As Waka Waka continues its journey towards excellence, it has reached another significant milestone today:
A new world record has been achieved by Valery Trading in the Expert Advisor niche by achieving 64 consecutive months of profit.
Achieving this result demonstrates Waka Waka Expert Advisor's enduring strength. Valeriia Mishchenko - the EA chief developer - ensures that she is immensely proud of how far they have come.
However, there's more exciting news for you, as Waka's MyFxBook track record shows an account gain of +7200% on Valeriia Mishchenko's live accounts!
Valeriia Mishchenko also confirms that their clients and followers have been instrumental in making all of this possible. And that Valery Trading have achieved success because of your trust. This journey has been an incredible one and Valeriia Mishchenko is grateful to everyone who has been a part of it.
To ensure that Valery Trading remain at the forefront of trading innovation and excellence, Valeriia Mishchenko promises that they'll continue to pursue a winning strategy.
She also claimed that Valery Trading developers team's hearts are filled with joy for this remarkable accomplishment, and they look forward to even more exhilarating things to come. It is their unwavering commitment to provide the highest level of service and to help you achieve your financial goals.
Let's keep the momentum going on Valery Trading's shared journey!
By
[Last Modified On Wed Sep 6
th
, 2023]
Published on
Wed Sep 6th, 2023
Perceptrader AI is a cutting-edge grid trading system that leverages the power of Artificial Intelligence, utilizing Deep Learning algorithms and Artificial Neural Networks (ANN) to analyze big amounts of market data at a high speed and detect high-potential trading opportunities to exploit.
Information, charts or examples contained in this blog post are for illustration and educational purposes only. It should not be considered as an advice or endorsement to purchase or sell any security or financial instrument. We do not and cannot give any kind of financial advice. No employee or persons associated with us are registered or authorized to give financial advice. We do not trade on anyone's behalf, and we do not recommend any broker. On certain occasions, we have a material link to the product or service mentioned in the article. This may be in the form of compensation or remuneration.